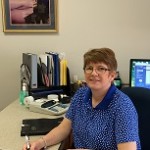 I began working as financial secretary at Boiling Springs Baptist Church in February of 2015.  I had retired from the Cleveland County School System in 2014 with 30 years of work in various positions.
My husband, Joel and I have celebrated over 30 years of marriage. We enjoy walking together, spending time outdoors, taking weekend trips to nearby historical cities and completing do-it-yourself projects around the house. 
We have 3 young adult children: Zach, who is married to Carrie, Jacob, who is married to Emily and Madeline, who is married to Josh. We have a grandbaby coming soon! 
We have 2 cats, Jack and Charlie and 1 dog, Tank, that loves riding on the back of Joel's truck around town.
You can contact Heidi by phone at 704-434-6244 or by email: [email protected]