I began on staff at Boiling Springs Baptist Church on January 1 of 2016 as Minister to Youth. One of my favorite things about my ministry is that I get to work as a team with my wife, Mary. Mary and I were previously at Mt. Zion Baptist Church in Cherryville, NC for close to 2 years as their Ministers to Youth. We have been married since December of 2014 and have a little puppy named Sophie. Mary currently works as a Nanny for a 5 year old girl in Kings Mountain. Mary is originally from Alexandria, Louisiana but moved to Thomasville, NC when she was 7 years old with her parents and two older sisters. She also has an older brother who currently lives in Texas with his wife and three children.
Mary's parents currently live in Lexington, NC. I was born and raised in Winston Salem, NC. I have an older brother who is married and an older sister who is also married.
Mar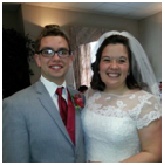 y graduated from Gardner-Webb University with a degree in Social Sciences in August of 2015 and I will graduate from GWU with a degree in Youth Discipleship Studies in May of 2016. Both of us have plans to attend Gardner-Webb University for Divinity School starting in the fall of 2016. Mary plans to pursue a degree in Pastoral Care and Counseling with a possible vision of Chaplaincy in the future. I plan to pursue a degree in Pastoral Studies in order to be able to further my plans for ministry in church.
Mary and

I both have a very strong passion for youth ministry and young people. We love being able to spend time and relate with youth on a personal level. As two young people in our early 20's, we enjoy being in similar places in our lives as our youth. We are able to be spiritual leaders while also walking alongside youth through this stage of life.
We are available on Facebook and Instagram. You can also contact me by phone: (704) 418-8925 or e-mail: [email protected]